Books
To inform, scare and inspire you.
Save cash and Save the planet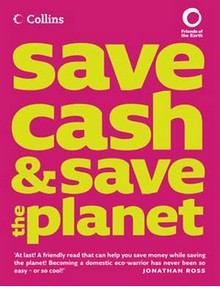 This book is for busy people who want to reduce their impact on the Earth's resources – and save cash into the bargain! Bite size chapters These cover a range of topics including reducing waste, energy efficiency, home, DIY, garden, food, time off, work, finance, travel, birth to death, activism and a Directory of resources.
What you can do
Practical advice for pound-stretching planet-savers: home-made cleaning products, no-cost energy efficiency measures, budget organic vegetables, and how to shop on the cheap without costing the Earth.
Real life case studies
Inspiring examples of individuals who've greened their lifestyles – and saved cash in the process.
At last! A friendly read that can help you save money while saving the planet! Becoming a domestic eco-warrior has never been so easy – or so cool!
Buy this book from the Friends of the Earth Shop, and all proceeds will help fund our campaigns.
ORDER YOUR COPY FROM Friends of the Earth UK shop TODAY Or see Havant FOE at our stall at the next event.
How to Live a Low Carbon Life provides a comprehensive, one-stop reference guide to calculating individual carbon emissions and it lays out clear plans for how individuals can reduce their emissions. Covering all aspects of modern life from transport to home heating to where our food comes from to the vexing issue of holiday travel, the book provides easy-to-use tables for conducting a personal lifestyle 'carbon audit'.
Can be ordered from: EARTHSCAN