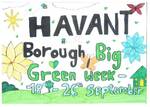 Havant Green Week is coming up in September and there's still time to get involved. Could you offer to do an assembly in a local school, show some videos at a coffee morning, persuade a local minister to hold a special service?

All the events planned will be on the Havant Climate alliance website and we'll have printed programmes and posters by the end of the month.

This is our Havant Borough Big Green Week poster, by Rebecca Nastri of Warblington School

Find out more at
https://havantclimatealliance.wordpress.com/havant-borough-green-week/
If you check out the Havant Climate Alliance website with that link, you'll find new pages with resources for schools and faith groups so it would be great to see loads of people using them.

Some schools are planning their own Green Weeks and others have exciting projects related to growing plants and tacking plastic pollution.

Faith groups are invited to hold special services in the lead up to COP 26 and there are lots of great new resources.
COP26
COP26 Is an incredibly important conference because it's so important to get every country to commit to rapid cuts in emissions but at the moment the signs aren't great and the British Government is still investing in new fossil fuel projects, airport and road-building programmes and not putting money into the infrastructure we need.
So please do everything you can to raise awareness and make sure your MP knows what you think.
Friends of the Earth have produced lots of resources for us to use.
https://takeclimateaction.uk/climate-action/your-guide-glasgow-climate-talks
Havant Borough Council
The HBC climate strategy is being discussed at the full council meeting on 22/9 so watch out for details. We can't see it until it has been approved by the HBC cabinet.  Once it's accepted by the Council, there's lots more work to be done on turning the strategy into an action plan. We are writing to the leader of the council asking for more community involvement.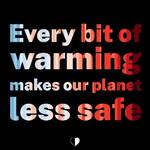 The IPCC report
The Intergovernmental Panel on Climate Change has just released the first of its three part 6th Assessment Report (AR6) which shows that the opportunity to limit warming of the Earth to 1.5°C or less is closing.
The door may be closing, but it hasn't slammed shut yet, meaning that bold action now will still be able to keep warming to 1.5°C. It also shows that they have reached an important consensus on the fact that the fingerprints of manmade climate change can be found throughout the climate system.
Changes in rainfall, heat extremes, growing intensity of tropical cyclones and compound events (for example, heatwaves and droughts happening at the same time) can all be attributed to human activity.
As campaigners, we need to put forward the case that it's still possible to limit warming to 1.5°C, to counter 'doom-laden' narratives that make it harder to achieve positive action at COP26 and beyond.
Southampton Airport
Airport eXpansion Opposition Group (AXO) are a group fighting the expansion of Southampton airport has raised half the money it needs for a judicial review so do consider donating Southampton Friends of the Earth is campaigning hard on this.
Near You
Don't forget the really useful tool to find out our well our area is doing on lots of key indicators https://takeclimateaction.uk/near-you
SOME EVENTS COMING UP
FOE are inviting us to: Taking part in the COP global day of action
(25th August, 7:00pm – 8:30pm)On 6th November, as the UK hosts the COP26 United Nations climate talks, people across the world will be taking part in a Global Day of Action to demand climate justice. Join this session to find out how you can get involved.
Another national FOE event: Using Social Media for COP and the Global Day of Action
(7th September, 5:30pm – 7:00 pm)As we approach COP26, join us to find out how you and your group can use your social media skills to call for climate action and a just transition.
Net Zero Local Conference
(Wednesday 29th September)This free virtual conference is being organised by Climate Emergency UK, Ashden, CAT and Aberdeen Climate Action.  It's called: From Inspiration to Practice: Delivering Net Zero through Local Government."

The idea is to showcase innovative, local government-led net-zero projects from throughout the UK and Europe. It looks like a really worthwhile event.
Havant Climate Alliance Meetings are via Zoom on the first and third Wednesdays and the next one will be on 18th August from 7pm. Contact

[email protected]

 if you'd like the details

you can find out more on the website at https://havantclimatealliance.wordpress.com/ or follow on Facebook or Twitter: @HavClimate
REPORTS
Local government and net zero:
This strongly worded report from the National Audit Office highlights "serious weaknesses in central government's approach to working with local authorities on decarbonisation, stemming from a lack of clarity over local authorities' overall roles, piecemeal funding, and diffuse accountabilities.
This hampers local authorities' ability to plan effectively for the long-term, build skills and capacity, and prioritise effort."
Powershift:  Local Authority powers relating to climate action:
Local authorities should be the cornerstone of delivery of Net Zero in local communities.  But as the Climate Change Committee and others have pointed out, they lack the power and support to do that job effectively.
A new report from UK100, a network of local authority leaders, drives this point home. It is "the most comprehensive examination of the duties, powers and policies available to local authorities and combined authorities in England – and the gaps – ever undertaken." So it's worth a read.
ONGOING PLANNING MATTERS
Developers are keen to snap up our precious greenfields in Havant Borough. The applications below illustrate just how vulnerable our remaining sites are.
Many more applications will be coming in the near future. If you would like more information on any of them, contact Pat Brooks at [email protected]
Land south of Lower Road Bedhampton
Despite Havant Council refusing the latest planning application for 50 homes on the site.
The developers went to appeal and the Inspectorate have now given permission for the development to go ahead, despite recognising a number of negative consequences, including that on the historic environment of Old Bedhampton, and problems from increasing local traffic etc.
Southmere Field. APP/21/00647
(field west of Langstone Road and south of the Mallards)
Persimmon are requesting planning permission to build 65 homes on this 2.9 ha. undisturbed pasture, used for hay, which provides roosting and feeding for Brent Geese and Waders, including Curlew.
As land within 90 metres of Langstone Harbour this is precious coastal land which will be needed to support these bird populations into the future. It will be argued that Warblington Farm can provide for the birds if this goes, by providing part of a chain of ecologically linked small nature reserves around the Solent.
But we would say that it is also important for there to be a large enough area overall to allow species to adapt to climate change into the future e.g what happens when sea levels rise and Farlington Marshes are lost to the waves? If you wish to object you need to contact Havant Borough Council by 4 pm on 13th August.
Appeal to the Government Planning Inspectorate about plans to develop in Tournerbury Woods on Hayling Island. APP/18/00943.
If you have concerns about this, you need to contact the Inspectorate by 26th August.
Plans to build a Distribution Warehouse on the site of the Pfizer building in New Lane Havant. Demolition APP/21/00783
Sue Holt has already put in an objection to this on our behalf. Although we support the development of brown field sites, this type of development will vastly increase traffic and pollution through and round Havant, and would be better placed on the edge of town adjacent to the motorways.
There is a new application for the demolition of the old building between 21st September and 22nd March. If you have any comments to make about this they need to be with the Council by 17th August.
Campfield, north of Bartons Road, next to Havant Crematorium. APP/21/00678
Further application for 70 homes. Any comments need to be with the Council by 20th August.