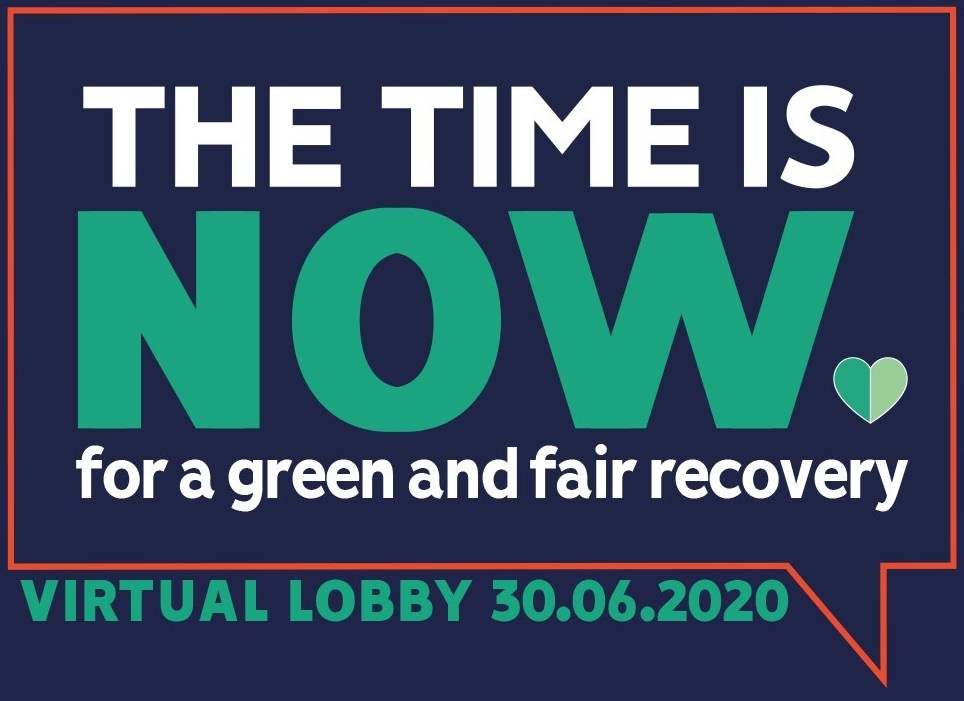 The Time is Now – building a green economy
Lots of us met with local MPs as part of the Time is Now lobby, organised by the Climate Coalition, on Tuesday 30th June. It was a useful exercise and we are engaged with follow up letters and actions. So far, the promised Green Recovery hasn't been allocated much funding, compared with other countries so letters to MPs urging more action fast would be very welcome.
Friends of the Earth have created a new petition https://act.friendsoftheearth.uk/petition/tell-chancellor-you-want-green-and-fair-pandemic-recovery
There are also loads of useful resources on the FOE website. They are campaigning about climate change, tree cover, trade and climate, plastics, nature, Heathrow expansion, bees and fracking https://friendsoftheearth.uk/about-us/our-campaigns
Trade deals
One of the FOE campaigns is about the trade deal with the US which is being negotiated at the moment. You've probably seen the publicity about threats to our food standards and NHS but there's lots more to it and adopting it in full could seriously undermine our efforts to build a new green economy.
Global Justice Portsmouth have invited Nick Dearden, Director of Global Justice Now to talk to us on Monday at 5.30 about what's involved in the deal and what we can do about it. More details here: http://www.campaign.exchange/event/stop-the-toxic-trade-deal-with-trump/
Havant Climate Alliance
Find out more on their website. https://havantclimatealliance.wordpress.com/ or Facebook group https://www.facebook.com/groups/2229614703761107/?  Or follow them on Twitter: @HavClimate.
Do check out the links and sign up if you're on Facebook or Twitter. And are you part of an organisation which could sign up as a supporter?
The group still meets regularly each week and from now on it's going to be on Wednesday evenings. Contact [email protected] if you'd like the details for joining on Zoom.
The group has been focusing on active travel, energy ideas for Havant and contacting MPs and councillors on climate and the green recovery.
Havant Local Plan
Havant Borough Council have made a series of amendments to its local plan. We had a meeting to discuss these but as nothing major could be changed, we decided to focus on the next version. it's really important that green issues are given greater prominence.
Hampshire Climate Strategy
This has just been published and is going to Cabinet on Tuesday 14th July. Some members of Hampshire Climate Action Network will be making deputations but we'll have chances to comment more as it develops into an action plan which is due for September. It's rather daunting but there's a lot of good stuff in it. These are the documents for the Cabinet meeting – it's item 10.
https://democracy.hants.gov.uk/ieListDocuments.aspx?CId=134&MId=6499&Ver=4
If you want to watch the meeting go to https://www.youtube.com/user/hantsplayer/featured
have submitted a 3000+ petition to PCC, calling for more street space to be given over to social distancing, an improved cycle commuter highway around the city and city-wide network of roads that prioritise walking and cycling. It will presented to Full Council on Tuesday 21st July.
New Cycle Group
Col Beck has set up a new Cycle Group for Havant.
Have a look at their Facebook page to find out more
https://www.facebook.com/groups/2394367394191399/
Hants & IOW Wildlife Trust
have launched a new report on reversing insect decline: https://www.hiwwt.org.uk/reversing-decline-insects
They also have lots of useful resources on getting more tree cover, creating wildflower areas and more
https://www.hiwwt.org.uk/team-wilder/team-wilder-resources-and-toolkits
Greener UK
Did you know that FOE is part of Greener UK and they have lots of policy documents on the Agriculture and Environment bills plus trade deals. All things we should be worried about right now. https://greeneruk.org/
Play Streets
Saturday 11th July, 10.30 – 12 How to Run a Play Street – Resident Workshop run by Playing Out https://playingout.net/covid-19/webinars/
FOE webinars
Friends of the Earth are still running excellent webinars on campaigning skills related to climate action. More details here https://takeclimateaction.uk/training/training-join-webinar-and-brush-your-campaigning-skills
If you see a road verge in Hampshire which you think is particularly important for wildlife, contact Hampshire Biodiversity Information Centre and they'll survey the area for you and decide whether to designate it as a Road Verge of Ecological Importance which will give it more protection.