Join us for our next meeting
On Monday 15th June at 7 p.m. Jane Devlin, Climate and Environment Lead for Havant Borough Council, will be joining us to explain her role and plans and to lead us into a discussion on how we can reach out to the wider community. To request the meeting link, email [email protected]. This is organised by Havant Climate Alliance, which is linked to Havant FOE and now meets regularly on Monday evenings.
Havant Climate Alliance
HCA now has a new website https://havantclimatealliance.wordpress.com/ and an active Facebook group https://www.facebook.com/groups/2229614703761107/?  and a Twitter account @HavClimate. Do check out the links and sign up if you're on Facebook or Twitter. And are you part of an organisation which could sign up as a supporter?

#TheTimeisNow. Sign up for the first virtual mass lobby of MPs on 30th June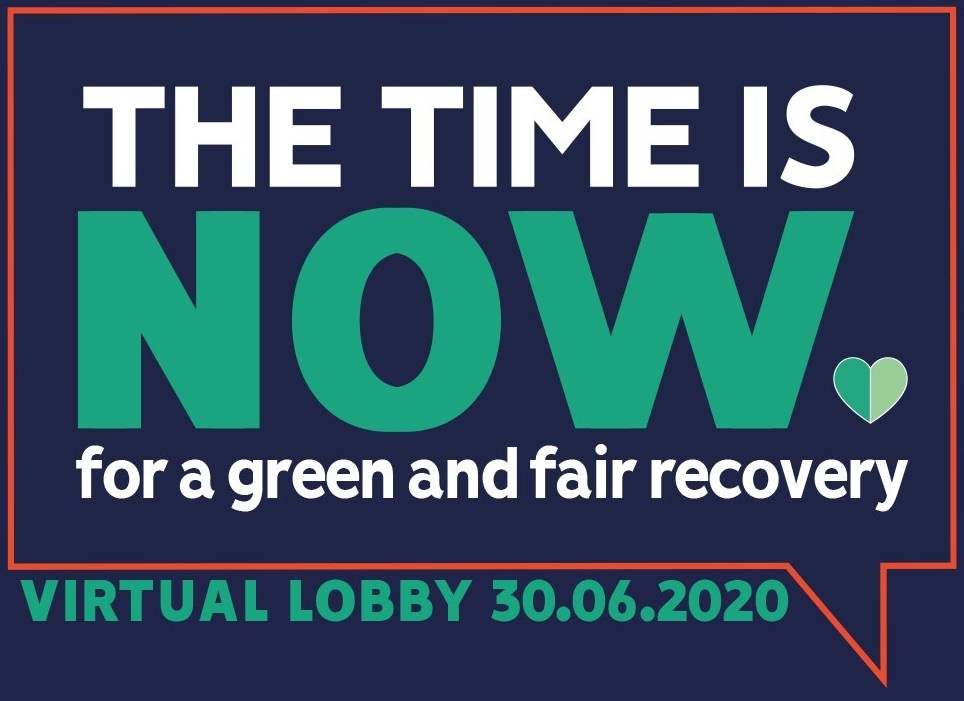 https://www.theclimatecoalition.org/thetimeisnow
Last year The Time Is Now involved the biggest ever mass lobby for climate, nature and people. 12,000 people from all walks of life travelled to Westminster to talk to their MPs about how the UK needs to tackle climate change and nature's decline.
This year it has to be different. On 30th June we want to come together again, this time for a virtual lobby, again asking MPs to put people, climate and nature at the heart of our nation's recovery.
The UK is at a turning point. As we build back from the current health crisis, we have the opportunity to rebuild a resilient economy that benefits everyone in society and tackle climate change and nature's decline, creating jobs and protecting the most vulnerable in the UK and around the world. Or we can let the moment for change pass us by, go back to old ways and wait for new crises to hit.
Using our voices to call for action is more important than ever. Have a virtual cup of tea with your MP on Tuesday 30 June and tell them that #TheTimeIsNow to put a healthy, greener, fairer future at the heart of plans to rebuild from the Coronavirus crisis.

Safe walking and cycling
Hampshire County Council have published a COVID 19 travel map so do take a look. The idea is help identify locations in your neighbourhood that may need temporary measures to ensure people can get around safely during this crisis.
The first time you use the CommonPlace map, you will need to provide an email address and some information. Once you have done that, it's easy to add a scheme. The more schemes that are added the more the council will understand the strength of support for walking and cycling.
And, it is even more important to 'upvote' schemes that have already been added to the map – please do this – and ask friends and family to do the same. Come back to the map and vote on new ideas as they are added over the next few days.
The map is mainly aimed at making it easier to social distance and will use quick-to-implement temporary measures. But you can ask for the change you are putting forward to be considered as a long-term permanent improvement.
https://hantscovidtravelmap.commonplace.is/?fbclid=IwAR3oLUAxODrBryejxHNZiklXg_n2I7QtvbG7t0lDNpnS-0rCclAB2r-ymTI

Let your County Councillors know that action on safe travel is urgent
It would also be great to have lots of people writing to their County Councillors urging
them to take fast action to enable social distancing for walkers and cyclists AND keep air pollution levels down. The government has made funding available for simple (reversible) measures to encourage active travel during the Covid-19 pandemic. This is an opportunity for you to tell your local councillor that this issue is important to you and that you would like the council to take action.
Friends of the Earth have explained more and drafted a sample letter for us to use on https://takeclimateaction.uk/take-action/urgent-get-your-council-do-more-active-travel
Here is a list of your Hampshire County Councillors for the Havant area. To send an email to your local Councillor, type in the [email protected] (all in lower case letters, exactly the same order as the example)
Ray Bolton – Emsworth & St Faiths
Jackie Branson – North East Havant
Ann Briggs – Waterloo & Stakes North
Liz Fairhurst – North West Havant
Gary Hughes – Purbrook & Stakes South
David Keast – Cowplain & Hart Plain
Lance Quantrill – Hayling Island

Trade deals
The UK/US trade deals currently being negotiated in secret (and with no parliamentary scrutiny) are seriously worrying for a range of reasons. Higher drug prices, secret courts which favour big business, commitments to reducing workers' rights all seem to be on the table.
They are also a serious threat to our environment.
US agribusiness companies want to sell us meat which has been produced in ways unacceptable in Europe – hence the chlorinated chicken story, but that's the tip of the iceberg.
US firms are only required to ban pesticides if they have been proved harmful whereas in Europe we use the precautionary principle. Needless to say, a lot of industry-funded research will find that there are no problems even if bees etc are threatened.
The US objects to labelling GM crops
Apparently, climate is not to be mentioned in the trade negotiations. And taking action on climate eg reducing emissions, can be construed as threats to future profits and companies can sue under the Investor/State Dispute Settlement of corporate courts scheme. This is already happening, especially in poorer countries.
For some reason the Government is determined to push this deal through even though we have very low tariffs on trade with the USA, and there are stories of major concessions already.
We really need to fight this.
Find out more and take action  https://www.globaljustice.org.uk/campaigns/trade-justice and maybe watch their webinar on trade deals  https://youtu.be/kjg3_eoVngY
And if you haven't already signed FOEs open letter to the Government on the trade deal here it is: https://act.friendsoftheearth.uk/act/tell-government-not-chase-trump-toxic-trade-deal.

FOE Webinars

Friends of the Earth are still running excellent webinars on campaigning skills related to climate action. More details here https://takeclimateaction.uk/training/training-join-webinar-and-brush-your-campaigning-skills
FOE action on Climate
FOE wants lots of signatures for its call on the Government for strong action on climate:
Aim for 100% clean energy
Invest in green and affordable transport – no more airport expansion
Double tree cover to tackle climate breakdown and support nature
Ban fracking and stop using dirty fuels
Fund huge scale insulation and eco-heating schemes
Lead the change in the way we consume products, so that we use less, and re-use more
Pay our fair share to help vulnerable countries