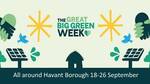 Havant Great Big Green Week – 18th – 26th September 
Could you organise something in your own area?  It would be great to see lots of events around the Borough, celebrating action on climate and sending a message to the politicians (especially in the lead up to the COP26 climate talks in November) that we really care about the linked issues of cutting greenhouse gas emissions, protecting biodiversity and tackling waste and pollution. We want to be part of the national event: https://greatbiggreenweek.com/
We have a number of events planned including a display about the work of local groups in the Meridian Centre and stalls at the mayor's coffee morning to show what environmental groups are doing but there is plenty of scope for more.
So, if you're a member of a group could you plan an open day, a talk, a practical demonstration, a walk or a cycle ride?
Maybe a working group to clear a site, tree planting or an event involving children? Could you build an environmental theme into something you are doing already – even a coffee morning or religious service?
Do let us know if have ideas now or if you have any questions about the Great Big Green Week. Contact us at [email protected]
The Birds of Havant area
Lots of you will know Martin Hampton who gave us a great talk about the insects to find around Havant a few months ago.
Havant Climate Alliance has invited Martin back to tell us about the birds you might expect to see in the Havant area and what we can do to help them.
The talk is on Wednesday 23rd June at 7pm and you can sign up here https://actionnetwork.org/events/the-birds-of-havant-area-and-how-you-can-help/
Go Wilder with
30 Days Wild
From 1st to the 30th June The Wildlife Trust is challenging you to do one wild thing a day throughout the month of June!
That's 30 simple, fun and exciting Random Acts of Wildness.
When you sign up, you'll get a free pack of goodies to help you plan your wild month, plus lots of ideas to inspire you to stay wild all throughout June and beyond!
The Wave of Hope
At the G7 in Cornwall this month – 12th and 13th June, the UK will be hosting the leaders of some of the world's most powerful countries. So it's a once in a lifetime opportunity to crack the four major crises the whole world is facing; the Covid pandemic, injustice, climate change and nature loss.
We're all invited to be part of the Wave of Hope craft action sweeping the UK to show the leaders that we want them to work together for a better world.
To take part in the Wave of Hope, the Crack the Crises coalition are asking individuals, families and community groups to put together creative window displays of handprints from their homes to raise awareness of the need for urgent climate action, adding messages of hope.
Take a photo of your window display and post it to social media using #WaveofHope. These images will then be collated together for use in a physical display at the G7 itself.
To find out more about the #WaveOfHope, visit crackthecrises.org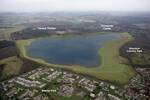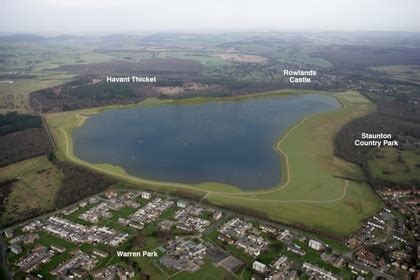 Havant Reservoir
The reservoir was discussed by the Havant Borough Council planning committee on Thursday 3rd June and we're sure you know that it was approved.
The presentation was very comprehensive so if you want to know more about what it will be like you can find the supporting documents on https://havant.moderngov.co.uk/ieListDocuments.aspx?MId=11382
Events coming up
Portsmouth Green Drinks – Thursday 10th June at 8pm
Jenni Jones from Sustrans, the walking & cycling charity will talk about the exciting new School Streets programme which is being launched in selected Portsmouth schools.
For a meeting link email [email protected] 

Groundswell 2021
Groundswell 2021 is a programme of talks, workshops, celebrations and discussions to bring together experts, activists and communities from across the movement for climate justice Organised by Friendss of the Earth. Friday, 11th June to Sunday, 13th June.
To find out more https://www.eventbrite.co.uk/e/friends-of-the-earth-groundswell-2021-tickets-151455510509
Havant Climate Alliance Meetings
Meetings are via Zoom on the first and third Wednesdays and the next one will be on June 16th from 7pm. Contact [email protected] if you'd like the details
you can find out more on the website at https://havantclimatealliance.wordpress.com/ or follow on Facebook or Twitter: @HavClimate
Green New Deal Havant
wants us to paint the town green on 19th June. See more here https://www.greennewdealuk.org/updates/paint-the-town-green-jobs/
Margaret Lockyer has loads of posters and would love help. Contact her at [email protected]
The South East Climate Alliance Networking event 2021
is on June 19th and the theme is Step Change: Thinking Big in the Year of COP26. You can find out all about SECA and join their mailing list on https://seclimatealliance.uk/about/
The Economics of Biodiversity II – Thursday 24th June at 7pm. A cafe-style conversation with Professor Sir Partha Dasgupta about his landmark global review of the Economics of Diversity.