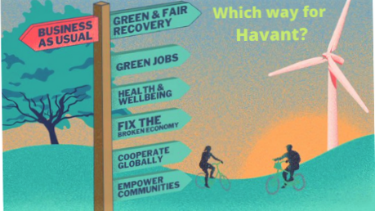 A Green and Fair Havant virtual meeting
Wednesday 11th November at 7pmDo join us to discuss your ideas and put them together into a vision for a thriving and sustainable community. This follows the Friends of the Earth week of action and you can find all the information here https://www.eventbrite.co.uk/manage/events/127362331161/tickets **Sign up and we'll send you the link just beforehand
Tell the Chancellor we need a green recovery and the money for it needs to be in the Autumn budget.

Our best chance at rebuilding a resilient economy goes hand in hand with tackling climate change and restoring nature. It's never been more important to put a cleaner, greener future that works for everyone at the centre of public spending. Have your say on how the government spends our money – submit to their Comprehensive Spending Review today and say #TheTimeIsNow for a green and fair recovery. https://thetimeisnow.uk/comprehensive-spending-review/
The Trade deal with the USA
Despite protests over the NHS, food standards, animal welfare, digital security climate action and democracy, the government is pressing on with negotiations. There was an online rally on 24th October which is well worth watching – some excellent speakers spelling out the issues. You can watch it here https://youtu.be/klTukfwMzpw
Some online events coming up
There's a conference with lots of interesting sessions leading up COP 26 Conference next year. It's from 12th – 16th November https://www.eventbrite.co.uk/e/from-the-ground-up-global-gathering-for-climate-justice-tickets-123492698987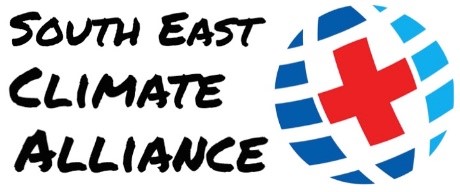 South East Climate Alliance Conference – 13th November
https://climateemergency.org.uk/  lots of useful and interesting sessions, check it out.
The Climate Outreach group is doing lots of work on how to get the climate crisis over to people and they are launching a new toolkit at a webinar on 18th

November.

https://records.climateoutreach.org.uk/civicrm/event/register?id=137&reset=1
Planning for the Future
Havant Friends of the Earth and Havant Climate Alliance recently submitted their response to this white paper consultation. The government is keen to speed up the planning process by zoning land that could be developed, classifying it as land for Growth (usually greenfield), land for Regeneration (usually brownfield) or Protected land which will not be built on. For Growth and Regeneration land, Local Authorities and communities will agree what sort of building and what designs they want, with as many requirements as possible. However, once that is agreed, developers will be free to build, without the democratic check of each project needing planning permission. We think that this can leave places vulnerable to unscrupulous developers who can find loop-holes and not deliver the quality homes that are needed.
There is much emphasis on designing beautiful homes in the white paper, without there being enough emphasis on the need to build for maximum energy efficiency, carbon net zero and biodiversity.
For a borough with as many geographical and environmental constraints as Havant, there will be conflict between land for Growth and land for Protection.
The paper includes an algorithm for calculating the number of homes that should be built, more if house prices are higher, and existing house numbers are greater than average. For Havant this almost doubles the number of homes that are already included in the Local Plan, from 504 p.a. to 962 pa. ,which most view as already too many.
The paper seems to identify local authorities and the current planning systerm as the main cause of delay in house-building, but the Local Government Association say that the main source of delay is developers who sit on sites with planning permission, waiting for house prices to go up to make it more profitable for them.
Havant Thicket Reservoir
Investigations are underway with Portsmouth Water digging large holes to investigate ground conditions on what will be the reservoir site, mainly on what is now open fields by Havant Thicket. Some ancient woodland will be lost and we are supporting its replacement, with Portsmouth Water. Cycle groups have been lobbying for an effective cycle and walking route round the reservoir, north to south and east to west. We are also supporting a proposal for the visitor centre to be built as an exemplar of self-sustainability by environmental standards.
Planning permission for 195 homes plus nature reserve on land north of Sinah Lane, Hayling Island
Barratt homes have been pursuing this development since 2018 and appealed to the Planning Inspectorate about it, as Havant Council delayed making a decision about it in March, as Covid-19 prevented them meeting. The Inspectorate still wanted to know what Havant's decision would have been, had the meeting gone ahead, so the Development Management Committee met to decide this on Thursday 29th October. They agreed planning permission 5 for v 2 against. We are now waiting for a further decision from the Planning Inspectorate.
There are a large number of concerns about building on the Sinah Lane site.
Over 500 objections have been received against it and there were 10 deputations, which included the Chair of the Committee, Cllr. Clare Satchwell:
Loss of winter foraging for Brent Geese and Waders
Risk to water equality in Langstone Harbour
Coastal erosion
Site prone to flooding
Impact of extra traffic on Hayling's roads which are already overloaded
Strain on local schools and health services
Homes not built to high enough standards for energy efficiency and zero-carbon.
Please contact Pat Brooks if you would like more information.

Some films members recommend
Try Kiss the Soil about farming methods which value our soil and The Game Changers, a very entertaining film promoting veganism and explaining why the world needs it. And don't forget about David Attenborough's film A Life on our Planet. All on Netflix.

Tree Cover
Friends of the Earth have produced a new report on nature in our national parks and a map to show how much access to green space different neighbourhoods have. There are some surprising results. For instance, the Yorkshire Dales have less tree cover than London and the Peak District less than Leeds.
Find out more here https://policy.friendsoftheearth.uk/insight/missing-action-natural-climate-solutions-englands-national-parks

Local Events
Portsmouth Green Drinks – Thursday 12th November at 8pm
Discuss Geology for the Future with Craig Storey & Nick Stoor from the University of Portsmouth.  Email [email protected] for details.

Tree Charter Festival – Saturday 28th November 12:30 – 6pm
Join the Woodland Trust for the biggest virtual celebration of woods and trees the UK has ever seen to celebrate the third anniversary of the launch of the Tree Charter.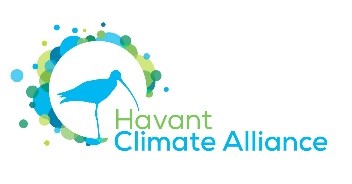 Don't forget that  Havant Climate Alliance meets via Zoom every Wednesday  

The meeting on 11th December will be a sort one straight after the discussion. You are welcome to stay and join us.

Contact [email protected] if you'd like the details Find out more on their website at https://havantclimatealliance.wordpress.com or follow them on Facebook or Twitter: @HavClimate
Caroline Lucas (Green Party MP) has presented a Climate & Ecological Emergency Bill to Parliament (with a lot of support) calling for much faster action on both. It would be great if you could write to your MP, supporting this. Find out more here https://www.ceebill.uk/