Preparing for Climate Resilient Harbours
Join Havant Climate Alliance's meeting this Wednesday 9th February at 7pm on zoom to learn more about protecting our precious local harbours.
Fairtrade Fortnight 2022
See what's it's all about and learn about our local event on 3rd March which shows how Fairtrade and Climate Justice are closely linked.
https://campaign.exchange/2022/01/18/fairtrade-fortnight-2022/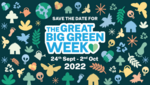 Havant Borough Great Big Green Week
Havant Big Green Week Starts from the 24th September to the 2nd of October, so save this date for your diary. We want to reach out to lots more people this year so if you have ideas please do get in touch.
Greener Schools
Havant Climate Allinance's March meeting will be a chance to hear about some of the exciting projects taking place in local schools.
To find out more and register please follow the link below.