United for Warm Homes
Join us on November 18th in the Meridian Centre between 10.30am and 2.00 to help us make a quilt (from card) to highlight our demands for more renewable energy, funding for retrofitting and help for the poorest people with their energy bills.
We'll be handing over our petitions to local MPs that day too and we could really do with more signatures to Ask Alan Mak MP and Flick Drummond MP to take action for warm homes
Climate Emergency UK
Council Scorecards
In 2022 Climate Emergency UK assessed every published council Climate Action Plan and released the results as a set of Scorecards.
Now they have completed the far more demanding task of awarding Scorecards for every council's actual performance against the climate goals they have set.
You can head over to Climate Emergency UK to see how your council has fared.
Phil Gagg, from the Winchester Climate group, has collated the scores into a really useful spreadsheet
There are also training sessions organised by Climate Emergency on Wednesday 15th November and Thursday 7th December
How to use the Council Climate Action Scorecards – Training Session 2
Here is another organised by FOE
Join Friends of the Earth and Climate Emergency UK on November 16th for this in-depth exploration of the new Scorecards

The Greening Campaign 
This is an initiative, supported by Hampshire County Council to set up community groups which take climate action together.
They have a team of experts funded to support 20 communities across Hampshire to learn more about waste prevention, space for nature, making your home more energy efficient, the health impacts of climate change and growing your own food.
They had a public meeting in Havant recently but there are other information events planned. Find out more here
Chris Packham
There are some great nature documentaries on TV at the moment – all showing how precarious the future of many species is.
Chris Packham is launching another on YouTube 8 Out Of 10 Bats
FOE South East Groups Meet-up 
The next South East groups online meeting is on 6th November. This time Abdi Suleiman, Political Affairs Manager at Friends of the Earth, will share his thinking about the next General Election – what we can expect from the Parties, what the key issues are likely to be, and how we can get our campaigns on the agenda.
This meeting is open to any group members in the South East region.
Portsmouth Water
Pipeline consultation
They are now proposing to install two separate pipelines to pump spring water to the reservoir and draw it out when needed.
The pipelines could also potentially be used by Southern Water in the future, if it receives planning permission for its water recycling scheme, known as The Hampshire Water Transfer and Water Recycling Project ,which is obviously highly controversial.
Portsmouth Water is running a publicity campaign to promote the reservoir pipeline consultation across the local area.
Information on our updated pipeline plans will be available on the Havant Thicket Reservoir webpages from 6th November 2023.
Please see here for more information
You will be able to give your views via an online feedback survey on the website, or you can attend one of the public drop-in events, where you can meet our team face to face and ask questions.
The two drop-in sessions are being held at the following venues:
Meridian Center, Havant
10am – 4pm
11th November
Leigh Park Community Centre, Havant
3pm – 6pm
16th November
Save the date
Global Day of Action during the COP28 Climate Talks in Abu Dhabi.
Saturday 9th December
12.00pm (Rally) – 1.00pm (March)
Beside the D-Day Museum, near Southsea Castle
Please share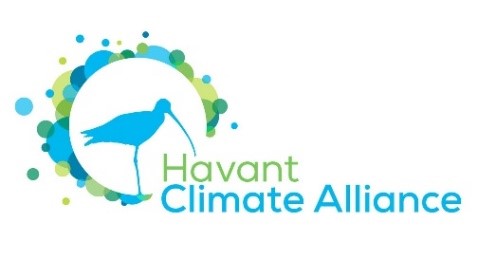 We'd love to see more people at our local planning meetings which are held on the first and third Wednesdays of the month via Zoom.

If you would like to join in, please contact [email protected] for a link to our planning meetings.