Havant Borough Big Green Week Events Programme
We have a great programme of events lined up around the Borough, all designed to celebrate local action on protecting our environment which starts on 10th June.
Have a look at (and share) the list, get some days into your diaries and support the organisations which are putting on all these events.
Please also help us by sharing the information as much as you can.
There are lots of great resources on the Great Big Green Week website
Help Needed with Event Stalls
FOE/Havant Climate Alliance need help with stalls at both Havant and Waterlooville.
If you can spare a couple of hours, please do come along and help out to promote the Friends of the Earth campaigns like United for Warm Homes, and the Havant Reservoir petition.
Havant

Location: St Alban's Primary School
Date: 10th June
Time: 11am – 3pm

Waterlooville

Location: Jubilee Park, off Milton Road
Date: 18th June
Time: 10am – 5pm
If you can help out at please email [email protected]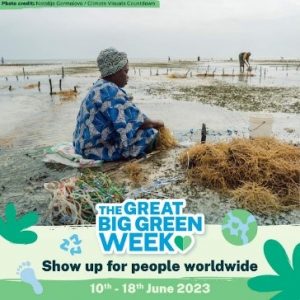 Open Meeting – What Can We Do? Ideas which might change the world
Date: 14th June
Time: 7pm
Location: Havant Meeting place at the United Reformed Church, Elm Lane
As part of the Green Week, there will be an evening of short films and presentations on exciting ideas which you might like to explore further.
Doughnut Economics, B Corps, Economy for the Common Good, Circular Economy.
Skills and power building event for FOE activists in the South East
Date: Saturday 29th July
Time: 11am – 5pm
Location: Brighton
You're invited to attend a skills and power building event for FOE activists in the South East.
The event is completely free which includes refreshments and a picnic on the beach, it would be good if a group from Havant could go along.
Our petition for action on Warmer Homes
Don't forget to sign and share our local FOE petition calling for help with energy bills, a huge programme of retrofitting and investment in renewable energy.
Ask Alan Mak MP and Flick Drummond MP to take action for warm homes
Friends of the Earth Trees Map
FOE have produced new maps of tree cover across the UK and shown where extra planting could be most effective.
They show that 43% of neighbourhoods have less than 10% tree cover and these are often the most deprived areas in other ways.
Havant Reservoir Petition
We're also keen to get more names on our petition calling for Southern Water to explore alternatives to putting recycled effluent into Havant Thicket Reservoir.
There are well over 5,000 now but we could do with lots more.