Have Your Say
Hampshire CC are inviting comments on the Local Transport Plan 4 which is the Hampshire Strategy for the next 10 years.
https://www.hants.gov.uk/transport/strategies/transportstrategies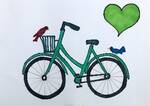 Come to our next meeting. Share your ideas on improving cycling and walking around Havant Borough. Wednesday 13th October 7 pm

https://actionnetwork.org/events/how-can-we-make-it-easier-to-cycle-and-walk-in-havant-borough
Tipner West
Lots of groups, including the Hampshire & Isle of Wight Wildlife Trust are challenging the damaging 'super-peninsula' plans at Tipner. This is a vital habitat for endangered wading birds, fish and invertebrates, a precious carbon store and is home to bacteria and algae that help to improve the water quality across Portsmouth's estuaries and the wider Solent.
This special area already has the highest possible level of protection for wildlife.  Allowing it to be drained, concreted over and built on will undermine wildlife laws and set a dangerous precedent for building over protected habitats across England.
Join the call for climate justice at the COP26 Conference
It's vital that we get world leaders to agree to effective cuts in greenhouse gas emissions at this conference in November
We should start to make our voices heard in the lead up to COP, whether it's by spreading the word about the talks or pressuring decision-makers.
You can use these handy resources from FOE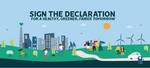 Sign the Climate Declaration put together by the Climate Coalition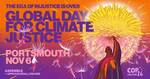 March, Rally, Shout and Sing for Climate Justice!
Put 5th and 6th November in your diary. Hopefully lots of people from Havant will join the rallies and marches in Portsmouth https://campaign.exchange/2021/10/01/cop26portsmouth/
If you want to get more involved, there's a Facebook group to help with planning https://www.facebook.com/groups/1187346021767884/
The Billion Seed Challenge
Keep up the community spirit after the #GreatBigGreenWeek and plant wildflowers to green up your local area and show that you believe that the decisions made at #COP26 will make a difference. The seeds planted will be a lasting legacy, just like the decisions made by Boris Johnson and other world leaders.
Get involved at together.org.uk/billionseedchallenge
Events coming up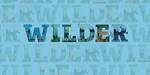 Wilder Art Exhibition
Saturday 9th & Sunday 10th October – 10-4pm
Bask in the beautiful works of our local artists who themselves have been inspired by the nature around us.  Book your tickets online by paypal (donation required).
Fair Trade Talk
Monday 11th October – 7-8:30pm
Find out what Fairtrade certified means and the difference between Fairtrade logos, schemes and certifications.
Talks
The Campaign for Clean Air (Friends of the Earth)
30th September 7-7:45pm

Fixing the Climate Gap: One Repair at a Time
Friday 22nd October 7-8:30pm