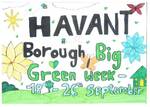 Havant Big Green Week 18th – 26th September
now has a programme of over 50 events with more than 30 groups involved. There's everything from bug hunts to litter picks on paddle boards, films to displays about local groups.
There are guided walks to introduce you to bird-watching, local ecology and trees; there are climate conversations so you can learn more about what's going on.
There are exciting programmes in a number of schools and special services around the Borough. You can find plenty of opportunities to get involved with litter picks and woodland clearance and everyone is invited to the Mayor's green, zero waste Fairtrade coffee morning on 17th.
So do have a look at the programme on https://havantclimatealliance.com/havant-borough-green-week/ and share it as widely as you can. We're particularly keen to get the programme out to young people as there are lots of events planned for children.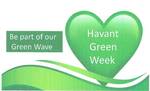 We're also keen that people take action afterwards – join a group, take political action, make pledges. And we are trying to build on a green hearts theme in photos and with pledges.

See more here https://havantclimatealliance.com/2021/08/25/be-part-of-our-green-wave/
Urgent action needed
Havant Borough Council has produced a Climate Strategy which is going to Cabinet on 8/9 and to full Council on 22nd September. We have some serious concerns about the strategy and members of FOE and HCA are contacting councillors to ask questions and suggest improvements.
We are keen to see more community engagement, protection for biodiversity, clear targets and monitoring systems and a real emphasis on active travel. We've put links to the strategy and some comments on so do please take a look and let local councillors know what you think.
https://havantclimatealliance.com/2021/08/23/havants-climate-strategy/
Lots of groups are campaigning on the COP26 climate talks happening in Glasgow this autumn. This is an opportunity for the climate movement globally to come together to demand climate justice and highlight the solutions needed to the climate crisis. FOE are encouraging our network to get involved in the Global Day of Action on 6th November.

Check out the online campaign guide for more information.
UN Climate Change Conference UK 2021
There's a new COP26 coalition group to plan activities.in Portsmouth for 6th November and it would be great if lots of Havant activists lent their support https://www.facebook.com/groups/1187346021767884
The launch is on 16th September https://www.facebook.com/events/865008481058302?ref=newsfeed