Havant Climate Alliance Meeting – Wednesday 14th October at 7pm
Some of you might like to join in this week's Havant Climate Alliance meeting. Julie Thain-Smith who is now Havant Borough Council's cabinet member for the Environment and Climate is going to join and tell us what she is planning.
If you'd like the link please email [email protected]
Friends of the Earth
This is near the end of FOE's week of action on a Green and Fair Recovery and if you use social media, you should have seen lots of requests for good ideas which we can feed back to Havant Borough Council.
So do send in your suggestions to Sue James [email protected] or to Margaret Lockyer [email protected]
Other events coming up which you might like to join
These are all part of One World Week in the Portsmouth area and you can find more information: http://www.campaign.exchange/campaigns/one-world-week-2020-2/
Big Pharma and COVID – Wednesday 14th October 3pm
Everyone needs access to tests, treatments and any future vaccines. But the current system is dominated by corporate monopolies and secrecy around research and know-how. Instead of keeping solutions under lock and key, we need international sharing based on solidarity.
Come and meet Heidi Chow who runs this campaign for Global Justice Now. To join, use this link to go tothe Zoom Meeting: https://us02web.zoom.us/j/85829633994   858 2963 3994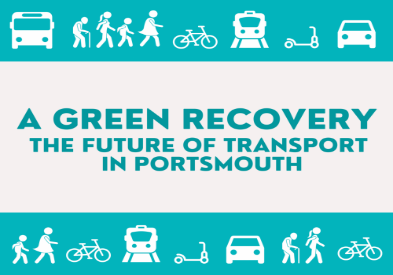 A Green Recovery – Monday 19th October 7.30 to 9.00pm
This is an event organised by Greenpeace with a One World Week link.
All the details of how to join are here: https://greenwire.greenpeace.org/uk/en-gb/events/green-recovery-future-transport-portsmouth
Moving Stories – Climate, Migration and Racism – Tuesday 20th October 7.30pm – 9.00pm
Stories of migration due to climate disasters. With analysis, poetry, music and refugee stories.
Speakers: Guy Taylor, from Global Justice Now and Shamila Dhana for the Red Cross.
Poetry from Majid Dhana, Testimonies from around the world
To join this free meeting, open to all, search for Moving Stories on Eventbrite or use https://www.eventbrite.co.uk/e/moving-stories-an-online-event-on-climate-migration-and-racism-tickets-123684913907?
Making the World Better – Thursday 22nd October at 6.30pm
COVID has shown up our global interconnectness and the underlying weaknesses. An online discussion about ideas for action right now.
We can all make a difference, come and share what you think our priorities should be.
Sign up on Eventbrite for the link https://www.eventbrite.co.uk/e/making-the-world-better-tickets-124298944489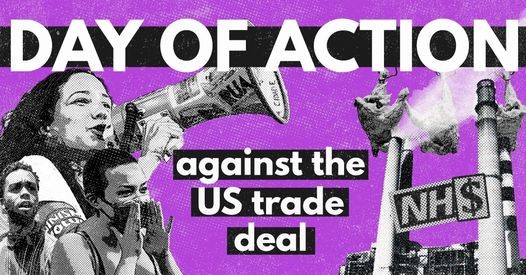 Trade deals Day of Action – 24th October
There will be a national day of action including an online rally, so please share messages, contact your MP, tell people how worrying it is for food standards, animal welfare, the NHS and climate action. it would be great if you could help spread the word – and hopefully join in the events.
This is the plan for the day and link to join: globaljustice.org.uk/events/day-action-against-us-trade-deal